In many ways WPOP had no right to be successful.

It was an AM station with 5,000 watts of power in a market dominated by 50,000 watt giant WTIC and the AM/FM combo, WDRC.

Initially located in New Britain and later moved to downtown Hartford, for many years the studios were located next to a smelly swamp in Newington.

Ownership changes were frequent, management changes constant, on-air changes rampant.

Yet it was the first Hartford station to recognize the potential in rock and roll programming.
These pages focus on the period during which WPOP played music, 1956-1975. No claim is offered for their absolute accuracy; corrections and additions are welcome (e-mail webmaster Ed Brouder).
WMFE (1380 kc, 250 watts), licensed on March 12, 1935, made its first broadcast from 147 Main Street in New Britain on July 15, 1935. One day later its call letters were changed to WNBC.

1937 WNBC letterhead

In June, 1936 the transmitter and antenna were moved from New Britain to Cedar Street in Newington.

In 1937 the station's power was increased to 1,000 watts.

New studios were pressed into service at 54 Pratt Street in Hartford in 1940, while WNBC's main studio remained at 147 Main Street in New Britain.

On March 29, 1941 WNBC moved to 1410 kc and the following November power was raised to 5,000 watts.

The main studio and city of license were switched to 54 Pratt Street in Hartford on June 16, 1942.

WNBC's name changed to WHTD in late October, 1944.
During the fall of 1946 the calls were changed again, to WONS. In October 1953 WONS merged with WTHT, the station founded by The Hartford Times newspaper. The owners operated WGTH-TV on Channel 18.
Letterhead had to be reprinted again February 14, 1954 when the radio calls changed to WGTH.
In July, 1956, RKO Teleradio Pictures, Inc., the station's eighth owner, sold WGTH to Tele-Broadcasters of Connecticut, Inc., which changed the calls to WPOP on August first (click here to see owner H. Scott Kilgore's ad explaining the change to Connecticut listeners). General Manager Philip A. Zoppi supervised the move from Pratt Street to 600 Asylum Street.
By 1958 WPOP was broadcasting Top 40 contemporary music. In 1959 the studios moved down Asylum Street from #600 to #410 over the Connecticut Bank.
Kilgore sold WPOP to Joseph C. Amaturo's WIRE Broadcasting Company on August 1, 1963. On May 14, 1964 WPOP broke ground on a Butler pre-engineered building for it studios and offices at the Cedar Street transmitter site in Newington; they moved in that summer.

In August 1972 it was announced that TV entertainer Merv Griffin's company, January Enterprises Inc., was buying WPOP for $2.75 million. Griffin took over the keys the following March.
On June 30, 1975, WPOP abandoned music programming in favor of the new NBC Radio News and Information Service. The on air personalities featured in these pages played the tunes which aired on WPOP between 1956-75.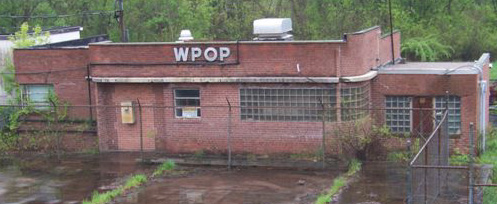 May 5, 2009-WPOP transmitter building on Cedar Street in Newington.
Photo courtesy of Steve DiCo Mannix.